Eric Shelton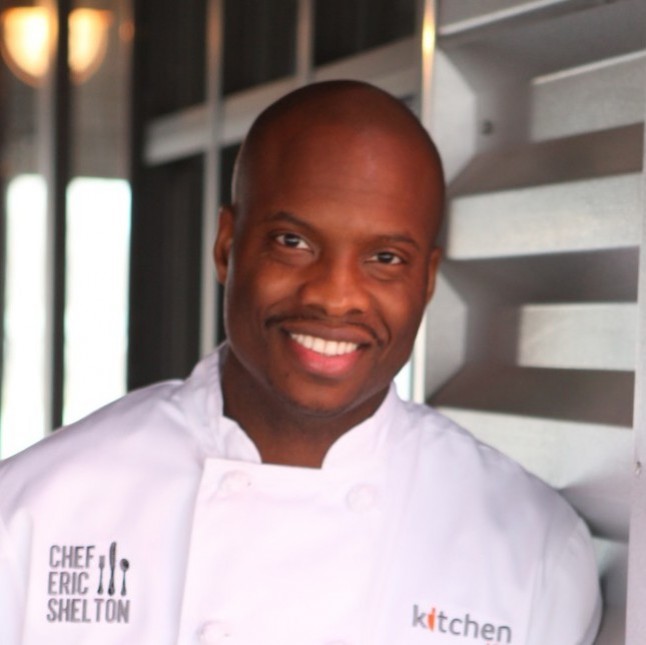 NEW AMERICAN
With over 15 years of culinary experience Eric's interest in food started while growing produce alongside his mother in their home garden. The combination of harvesting vegetables and consuming out of the ordinary produce from the local market sparked Eric's interest in food.@chefericsheltonFollow On FacebookVisit Website
Culinary is in my blood - it runs through my veins and into my heart and pumps out in the form of art.
The Dish
Hometown - Mystic, Connecticut (now resides in Dallas)
Training - - Johnson & Wales University, Providence, Rhode Island
This slideshow requires JavaScript.
Q & A WITH CHEF ERIC SHELTON
Q: RATE YOUR COOKING SKILLS FROM A SCALE OF 1-10 (10 BEING THE HIGHEST) AND WHY?
A: 8.  Culinary Arts is constantly evolving and you're always learning something new in this industry so noone can ever be a 10.
Q: TELL US ABOUT THE MOMENT YOU FELL IN LOVE WITH FOOD:
A: When I was little, Great Chefs of the World was on TV and I was mesmerized.  It came on at the same time as cartoons, and when I would get home from school,  found myself gravitating to watching that versus watching cartoons.  There was something about a French chef narrate the show that was interesting to me — I dreamed about becoming a chef and making the dishes that were presented on the show.
Q:  HOW WOULD YOU DESCRIBE YOUR FOOD PHILOSOPHY OR POINT OF VIEW?
A: Constantly introduce customers to things other than the mundane.  For example – garlic.  Some people don't know there's a black garlic out there.  I'd like to put that in a dish and educate them about it.  It's like a cooking class to me — let the customers be the students and let them rate me or grade me as a teacher.
Q: IF YOU WERE CHOSEN TO RUN OUR RESTAURANT FOR FOUR (4) MONTHS, HOW WOULD YOU DESCRIBE YOUR MENU CONCEPT (IE: MODERN AMERICAN, ASIAN FUSION, ETC)?
A: New American.
Q: WHAT IS THE HARDEST COOKING SITUATION YOU HAVE EVER BEEN IN? HAVE YOU EVER HAD A DISASTER IN THE KITCHEN? HOW DID YOU RECOVER?
A: I had to make 400 potato cakes for a wedding.  I had to put the potatoes in a deep cast iron dish and then layer the potatoes with butter, put them in the oven until they are crispy and then flip them.  It was difficult.  As far as disasters, I had to put out a chicken dish for a large buffet/party and the chicken fell on the floor.  Put it this way, I didn't recover — the guests just had to wait for me to cook more.
Q: WHAT ARE YOUR STRENGTHS IN THE KITCHEN?
A: I would say that I am a team player.  I am encouraging to my staff.  I'm ambitious and motivated to be just as good as everyone around me in the kitchen and my peers in this industry.
Q: DO YOU HAVE A FAVORITE CHEF? IF SO, LIST WHOM AND WHY:
A: Sean Brock.  I staged in his restaurant, McCrady's in South Carolina — his style and how he ran the kitchen gave me a whole new insight about what it means to be different and successful at the same time.