Chef Norman Grimm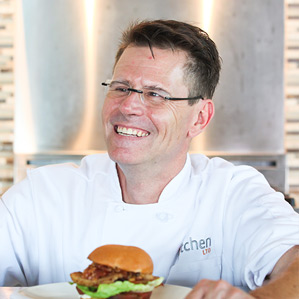 MODERN AMERICAN CUISINE
Highlighting fresh seasonal ingredients, with 23 years of fine-dining exposure. Kitchen LTO is Chef Norman's first crack at a menu with a vision all his own. His training may be classical French, but his ingredients are all seasonal American.Follow On Facebook
I really enjoy the teaching aspect of being a chef.
The Dish
Hometown - Malibu, California
Training - - New England Culinary Institute. Montpelier, VT
This slideshow requires JavaScript.
Q & A WITH CHEF NORMAN GRIMM
Q: RATE YOUR COOKING SKILLS FROM A SCALE OF 1-10 (10 BEING THE HIGHEST) AND WHY?
A: 6-7.  There are still many cuisines that I am lacking in.  Pastry is my weakness.
Q: TELL US ABOUT THE MOMENT YOU FELL IN LOVE WITH FOOD:
A: I fell in love with food at age 8 living with my father making fresh desserts for holidays.  My father was single and invited all his single friends over for many occasions.  This is where cooking began for me.
Q: IF YOU WERE CHOSEN TO RUN OUR RESTAURANT FOR FOUR (4) MONTHS, HOW WOULD YOU DESCRIBE YOUR MENU CONCEPT (IE: MODERN AMERICAN, ASIAN FUSION, ETC)?
A: Modern French/American Cuisine, highlighting on fresh seasonal ingredients with 23 years of dining exposure and techniques.
Q: WHAT IS THE HARDEST COOKING SITUATION YOU HAVE EVER BEEN IN? HAVE YOU EVER HAD A DISASTER IN THE KITCHEN? HOW DID YOU RECOVER?
A: Working in Mougins France was the complete test!  6:30am – 2am, 7 days a week for five months straight!  It made everything else seem easy.  I once overseasoned five complete foie gras terrines and it tasted like a Christmas tree in your mouth.  Recovery?  No recovery, just a fail:  and a valuable lesson on proper seasoning.
Q: WHAT ARE YOUR STRENGTHS IN THE KITCHEN?
A: I have a large cooking repertoire now and I really enjoy the teaching aspect of being a chef.
Q: DO YOU HAVE A FAVORITE CHEF? IF SO, LIST WHOM AND WHY:
A: There are several:
Traci Des Jardins – my 1st chef taught me the value of working really hard, proper seasoning, butchery, discipline, French and how to work efficiently.
Sylvain Portay taught me extreme focus and how to achieve disciplined flavor layers.
Sharon Hage taught me balance in food, acidity, phat, simplicity and complexity.
Richard Reddington taught me meat fabrication, foie gras production, Asian flavors, discipline, cleanliness and utilization of everything — no waste!