Brooke Egger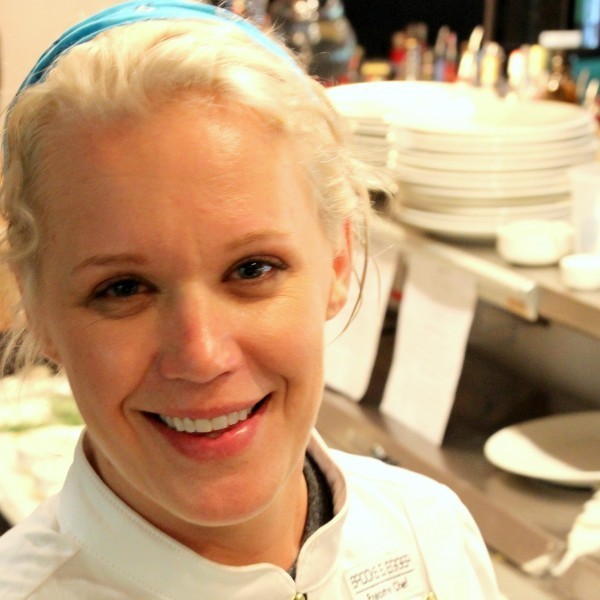 URBAN REGIONAL CUISINE
I use minimal ingredients for a flavor forward food with an exciting and adventurous twist.@BrookeEggerFollow On Facebook
My roots are the basis of my cooking style while the experiences throughout life are the flare of my dishes.
The Dish
Hometown - Santa Barbara, CA
Training - - Santa Barbara School of Culinary Arts, Santa Barbara, CA
This slideshow requires JavaScript.
Q & A WITH CHEF BROOKE EGGER
Q: RATE YOUR COOKING SKILLS FROM A SCALE OF 1-10 (10 BEING THE HIGHEST) AND WHY?
A: 8.5.  Due to the ability to think on my feet with consistency as well as creativity while keeping a cool and calm demeanor.  I never let them see me sweat, and I bring class and sophistication to the table with enjoyment during the entire production.  As a chef and artist I will always strive for something greater, something more.  Improvements can and always will be made.
Q: TELL US ABOUT THE MOMENT YOU FELL IN LOVE WITH FOOD:
A: Sitting for my first course of seven at Seeger's in Atlanta, Georgia in 1999.  It was snails wrapped in fig leaves and braised with dates.  The enitre production heightened and amused every sense in my body.
Q:  HOW WOULD YOU DESCRIBE YOUR FOOD PHILOSOPHY OR POINT OF VIEW?
A: I use minimal ingredients for a flavor forward food with an exciting and adventurous twist.
Q: HOW WOULD YOU DESCRIBE YOUR MENU CONCEPT (IE: MODERN AMERICAN, ASIAN FUSION, ETC)?
A: Urban Regional – influenced heavily with California Cuisine and a touch of World Flare.  My roots are the basis of my cooking style while the experiences throughout life are the flare of my dishes.
Q: WHAT DOES "URBAN REGIONAL" MEAN?
A:  The dictionary definition is characteristic of or accustomed to cities; pertaining to a region of considerable extent; not merely local.  I think of it as regional cuisine influenced by my time spent in certain regions; it began in the Pacific Northwest with California influence, a hint of world flair and now a touch of Dallas!
Q: HOW ARE YOU ADAPTING TO LIVING IN DALLAS SO FAR?
A:  Dallas has welcomed me with open arms and I have had a great time with everyone I have met thusfar.  Depending on what is to come after my time at LTO, I can already see the idea of a permanent relocation as an option.  I'm loving it so far!
Q: WHAT IS THE HARDEST COOKING SITUATION YOU HAVE EVER BEEN IN? HAVE YOU EVER HAD A DISASTER IN THE KITCHEN? HOW DID YOU RECOVER?
A: I am deemed the "Renegade Chef" of my area due to my love of hard or nearly impossible situations.  I have to say I have been posed with many crazy situations at music festivals or on-site catering events such as chefing for the LLC of Burning Man.  The Black Rock Security of LIB. 24-hour shifts, hundreds of mouths, minimal equipment as well as resources.  I make it happen.  I make it tasty and I make it flow.  I am one that thrives in difficult situations.  Working in those environments only has helped my restaurant work.  Everything can be anticipated and addressed with ease.
Q: WHAT ARE YOUR STRENGTHS IN THE KITCHEN?
A: My "never-quit" attitude, my ability to create a team atmosphere, my hard work ethic, and my passion for pleasing people through dining experiences.
Q: DO YOU HAVE A FAVORITE CHEF? IF SO, LIST WHOM AND WHY:
A: Guenther Seeger.  He was the one that changed my world and blew my mind.  I am where I am today because of his influence.  He never has just one project going.  He is a true food artist.