Anastacia Quiñones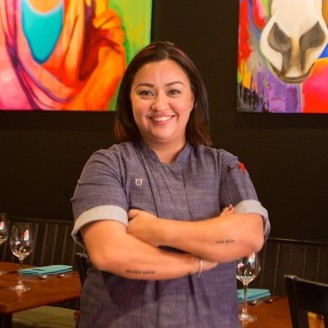 MODERN MEXICAN
I like to give people what they want by making the food I love. Yes, they are eating enchiladas and queso, but they are crab and poblano enchiladas as opposed to red chile sauce with cheddar cheese.@QuinonesAqFollow On Facebook
I'll give you your queso and chips but with three types of handmade cheese and fresh ground corn tortillas!
The Dish
Hometown - Dallas, Texas
Training - - The Culinary Institute of America at Hyde Park, NY
Q & A WITH CHEF ANASTACIA QUIÑONES
Q: Rate your cooking skills from a scale of 1-10 (10 being the highest) and why?
A: 8.  I rate my skills at an 8.  I'm still learning new ways to do things and the kitchen is ever-evolving.  I feel I have a very strong endurance on the line and can withstand pressure and patience which I believe is key to being a successful and respected chef.
Q: Tell us about the moment you fell in love with food:
A: I was at a catering with my mother when I was 19.  I hated going because I felt embarrassed that this was what my mother did.  On this one occasion, I had to be out front with her when I was usually prepping in the back.  I got to see how happy my mothers' food made everyone and how complimentary they were.  I began to see her in a whole new light.  She worked very hard for those compliments but always stayed humbled.  I wanted to be just like her after that.  She said even if I was going to only sell tacos and enchiladas, they had to be the best in Dallas.  I'm still striving for that!
Q:  How would you describe your food philosophy or point of view?
A: I used to think that my idea of food was always correct.  Working on Henderson Avenue proved me wrong.  I learned that just because you like what you like doesn't mean people will follow.  At the end of the day there has to be a balance between creativity and running a business.  So, I give people what they want by making the food I love.  Yes, they are eating enchiladas and queso, but they are crab and poblano enchiladas as opposed to red chile sauce with cheddar cheese.  I'll give them their queso and chips but it's with 3 types of handmade cheeses and fresh ground corn tortillas.
Q: If you were chosen to run our restaurant for six (6) months, how would you describe your menu concept (ie: modern American, Asian fusion, etc)?
A: Modern Mexican
Q: What is the hardest cooking situation you have ever been in? Have you ever had a disaster in the kitchen? How did you recover?
A: I once walked into a new kitchen with about 10 cooks.  I knew nothing about the menu or recipes.  I was to change the menu in a week and retrain the staff.  At 4:30pm, all of my PM kitchen staff walked out due to rumors that they would soon be replaced.  We had over 200 on the books.  With a pantry cook, a dishwasher and a food runner, we put out 240 covers.  I had only worked the line on one other night prior to that.  I wasn't proud of some of the food I put in that window, but I didn't give up.  Even when the ticket machine wouldn't stop, I kept going.  A week later, I rehired some old staff and we changed that menu to what it is today.  Some items still remain on that menu and are favorites.
Q: What are your strengths in the kitchen?
A: I have strong leadership skills.  Because I've been promoted several times at the same restaurant, I know what it takes to be a great line cook.  I can relate to my staff while still maintaining professionalism.  I try my best to lead by example.
Q: Do you have a favorite chef? If so, list whom and why:
A: Traci de Jardin from San Francisco is my favorite chef.  She taught me that I could do anything in a kitchen as well as a man if not better.  She also taught me about seasonality.  I sortof became a snob about it but you have to admit that watermelon does taste better in July than in December.