John Valverde and Miguel Vicens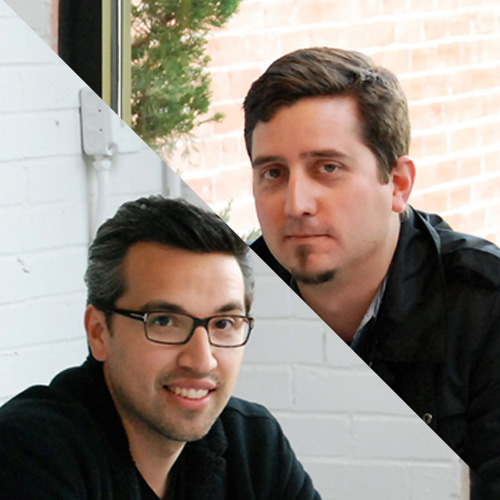 COEVAL STUDIO - DALLAS, TX
We enjoy projects that involve a mix of modern and classical elements.Follow On FacebookVisit Website
The Dish
BACKGROUND:
Based in Dallas, Coeval Studio has been making a name for itself on the local restaurant scene.  Co-Owners, Valverde, 33, a commercial real estate broker, and Vicens, 35, an architect who cut his teeth at Morrison Seifert Murphy, offer a one stop design shop for chefs and budding restaurateurs.
Restaurant owners themselves, John Paul and Miguel understand the importance of unique yet practical design.  "We strive to make sure our designs are functional, focusing on workflow such as server stations and cook lines."
Notable Projects:
Design / Concepting:

  Hacienda San Miguel, CampO Modern Country Bistro, The Original Mexican Eats Cafe, Outpost American Tavern, Wicked Po'Boys and Seafood Preston Center, Belly and Trumpet, Sunset Lounge
In Development:  Tanoshii Ramen & Bar, PakPao Tai, The Rustic, Mutts Cantina, Liberty Burger, Lakewood
Q & A WITH JOHN VALVERDE AND MIGUEL VICENS OF COVEAL STUDIO:
Q: WHAT IS YOUR UNIQUE DESIGN POINT OF VIEW?
A: We like to approach a design concept with a clear mind to develop a unique space. Additionally we strive to make sure the design is functional focusing on work flow such as server stations and cook lines. Especially in restaurants, this is critical.
Q: HOW DID YOU GET STARTED IN YOUR WORK AND WHAT IS YOUR EARLIEST MEMORY OF WANTING TO WORK AS A DESIGNER?
A: We have been in the arts and design for some time now. Miguel started his college education in the plastic arts before moving into architecture and eventually acquiring a Masters in Architecture from Arizona State University. Started working professionally in high end residential projects in Dallas and moved on to Hospitality Interior before forming Coeval and focusing in Restaurants / Bar projects. I, John Paul, have always loved design.  From traveling to Latin America, Europe or in the States. My vacations involve studying spaces, environments and food. Branding is my background as I started in real estate marketing in 1999.  Focusing on the company and how it reached out to particular demographics for the seminars it would sponsor. From there I began to focus on helping my personal clients build their brands and evolve it to make sure the commercial space they were taking on for 5-10 years would succeed.
Q: WHO OR WHAT IS YOUR GREATEST DESIGN INFLUENCE AND WHY?
A: Eames, Barragan, Thom Mayne (Morphosis) For the simplicity in design. Volumes in a space and installations in a space. It's not only about décor, it's about how a space makes you feel.
Q: WHAT ARE YOUR FAVORITE DESIGN STYLES AND WHY?
A: Our part has involved modern design and also some classical design.  Sometimes the concept or the location will drive a design style.  We enjoy projects that involve a mix of modern and classical elements.